Poetry, poetry, ardent affections, flesh, searching, almost surprising drama, fireworks finale.
This is how Giacomo Puccini described his "genre" in a letter written in July 1894. It is a remarkably accurate roadmap to his school of composition and one for which he struggled to find unexplored territory throughout his life. He was the Titan of Opera from the late 19th Century to the early 1920s. Even today, on the rare occasions when opera bursts into the mainstream, it is often one of his works that does so. Nessun Dorma, as popularised by Luciano Pavarotti at the 1990 World Cup, is ripped straight from Turandot, Puccini's final masterpiece.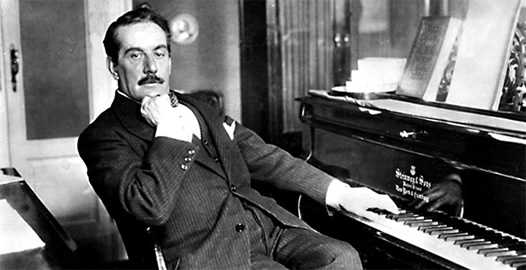 Across his 12 operas, an astonishing 7 of which are commonly performed works, he covered half the globe telling tales of Poor Parisian bohemians, Wild West cowboys and Chinese princesses amongst many others. Thrilling melodies, sumptuous orchestrations and gloriously melodramatic stories are a hallmark of his operas, making them fantastically engaging and endlessly moving bits of theatre.
Popular for all the right reasons, there are few better places to start in opera than Puccini.
His Operas
Opera
Date of Premiere
Le Villi
31st May 1884
Edgar
1st April 1889
Manon Lescaut
1st February 1893
1st February 1896
4th January 1900
17th February 1904
La fanciulla del West
10th December 1910
La rondine
27th March 1917
Il trittico
4th December 1918
25th April 1926