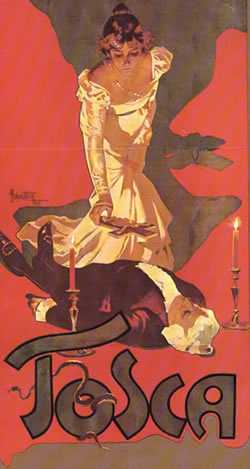 Tosca is one of the most lethal of operas. None of the central characters make it to the end alive, hero or villain. Unsurprisingly then, it's a thrilling melodrama often dismissed as one-dimensional and tawdry. You'd be foolish to go in with this attitude however, Puccini takes an overtly theatrical tale and makes it astonishingly moving.
Tosca is fundamentally historical fiction, a vague knowledge of the period is highly useful, though it is very much the 18th Century as seen through 19th Century eyes. Luckily it still works as seen through 21st Century eyes because at its core, Tosca is tale of romance over politics; featuring a heroic painter, a despicable ruler and an opera superstar, Tosca herself!
Productions of Tosca can go a variety of ways though predominantly it remains an opera that is staged fairly literally. Expect a big church to open the evening and an impressive battlement to close it.
One of the most exciting and gritty operas, Rigoletto is not for the faint-hearted. The censors of the time had real issues with Rigoletto's content and it's not really hard to see why! Set in the grubby world of the Duke of Mantua, a man with few morals and a great deal of power, the action plumbs the depths of nastiness and the bad guy doesn't get a comeuppance. There's no avoiding the opera's grim finale either, horrifically sad with only limited redemption.
In Brief
Name
Tosca
Composer
Giacomo Puccini
Librettist
Luigi Illica and Giuseppe Giacosa
Language
Italian
Date of premiere
Jan 14th, 1900
Number of Acts
Three
Music length
One hours, fifty five minutes