A subject very close to my heart—the struggle of the individual against the masses. The more vicious the society, the more vicious the individual.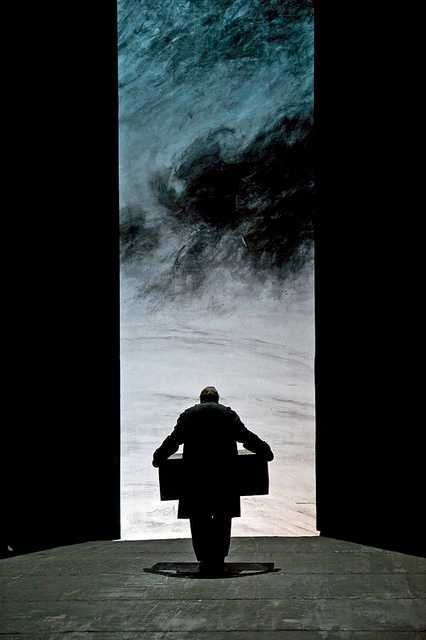 Peter Grimes is a big opera with a very tight focus. There are huge choral scenes and many supporting players, but the work holds fast to Grimes himself. Grimes is the ultimate outsider, one whom Britten associated with strongly. He's far from a hero, not even close, but he's no pantomime villain either. "Now the Great Bear", his startling Act II aria, reveals the wounded man beneath the menacing facade. This ambiguity runs throughout the piece, Grimes's nastiness set against the overwhelming mob-like behaviour of the townsfolk.
Another major element is that of nature, the sea ever-present in the drama and no more so than in the incredible interludes (music that is frequently heard in concert halls as the "4 Sea Interludes"). The town is dependent on the sea, fishing is how they make their living, but it is a dangerous bargain: they live by the sea and frequently die by it too, as we see with Grimes's successive apprentices.
Ellen Orford provides a counterpoint to the harshness of the environment and town, a schoolmistress spinster who cares for Grimes. He too wishes to marry her if he can make money, but it is essentially a social contract, not a loving one (though as with everything in this opera, there is plenty of ambiguity).
Peter Grimes is a tragedy from start to finish, but it's also a masterpiece of musical theatre. The sheer force of the music lifting the narrative to realms rarely reached in 20th Century opera.
The opening of Act II - Sunday Morning
In Brief
Name
Peter Grimes
Composer
Benjamin Britten
Librettist
Montagu Slater
Language
English
Date of premiere
June 7th, 1945
Number of Acts
Three
Music length
Two hours, twenty five minutes